Footprints in Time: Remembering the Visionary, Mrs Patsy Robertson
Tribute to Mrs Patsy Robertson, Chair, The Ramphal Institute
A visionary, a mentor, leader and friend
By Uday Nagaraju and Global Policy Insights (GPI)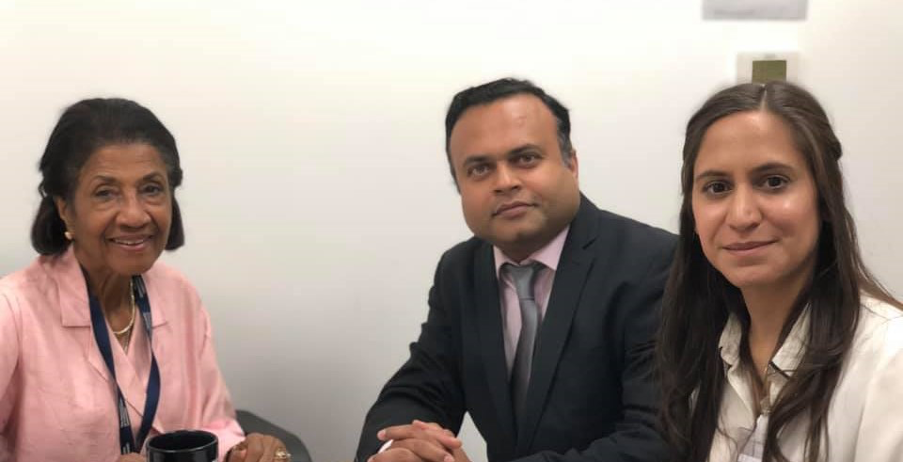 Mrs Patsy Robertson has had a distinguished and illuminated career, working closely with the Commonwealth Secretariat as its Director of Information to being the official spokesperson of the Commonwealth at international conventions. As a woman of colour in leadership, Patsy has honoured her roots throughout her life as a harbinger of equality across gender, race, educational background, nationalities and more. Her life is a guiding example to innumerable young people who remain inspired by her remarkable commitment to her work, passions, principles and her unfettered commitment to rights, justice and development that she maintained all her life, and that which shall continue to remain with us as a vision, even after her demise.
We at Global Policy Insights were introduced to Patsy and her undaunted vision in her most recent role as the Chair of the Ramphal Institute. In my interactions over almost the last two years, Patsy taught us lifetime lessons on life, public service and democratic governance, while effortlessly bringing into conversation anecdotes of her times next to Lee Kuan Yew or Indira Gandhi. To us, she too belongs in a league of leaders who impacted the world in unprecedented ways, in the most testing times for humanity and with unquantifiable humility and grace.
The Commonwealth Project at GPI immensely benefited from not only her expertise in the field but also from her profound wisdom and knowledge with which she greeted everyone who visited her. GPI's Commonwealth Project Lead Neha Dewan and I were so lucky to record Patsy's life in an interview in 2019, with little knowledge that we were archiving the life and work of a visionary in the process. GPI and the Ramphal Institute are hosting an international conference on 11-12 September 2020, and one of my last conversations with Patsy was days before her passing, discussing our journeys together and how far we had come in our efforts to leverage the true power of the Commonwealth, its people. We hope that our work is the real tribute we can offer to Patsy, for no words can do justice to the respect and admiration we hold for her. At GPI, we are deeply saddened by her loss but go forward imbued with the spirit and passion that Patsy shared with us, our only hope to share it with generations below. Personally, I have lost a dear friend and a mentor and memories with her can only serve as an inspiration toward our work in the Commonwealth.
Uday Nagaraju, Co-Founder and Executive President, Global Policy Insights. Project Director, The Commonwealth Project Conference Chair, The Commonwealth: Advancing towards the future with Emerging Technologies & AI.