Ramphal Institute Virtual Roundtable-Agriculture and Air Pollution in the Commonwealth
This webinar investigates measures Commonwealth countries can implement to effectively reduce air pollution from agricultural practices.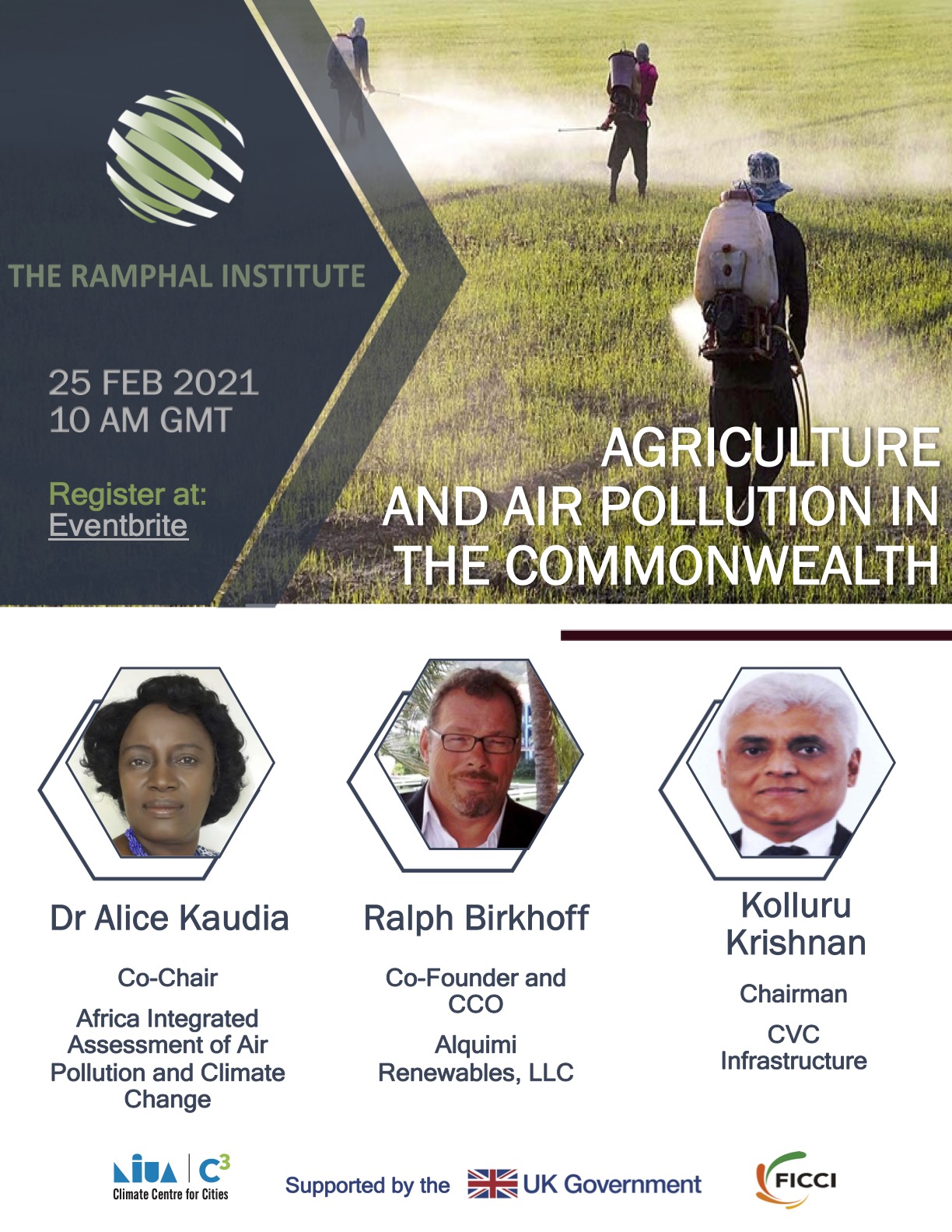 Speakers include:
Dr. Alice Akinyi Kaudia: Dr. Kaudia is the first Environment Secretary for the government of Kenya; a position she held since 2008 until 6th September 2018. Previous engagements include being the : (i) Technical Advisor on Forestry Curriculum and Training Development and community-based natural resources management approaches (Zambia) ; Regional Director of the IUCN – East Africa Regional Office; Assistant Director at the Kenya Forestry Research Institute (KEFRI); Associate Research Officer at the World Agroforestry Centre (ICRAF) and Assistant Programme Officer at the African Academy of Sciences.
She holds a Bachelor of Science in Agriculture from the University of Nairobi, an MBA in Global Business Sustainability and Social Entrepreneurship from Tangaza University College Kenya /University of Milan, Italy and a Doctor of Philosophy degree in Forestry, Extension and Development from the University of East Anglia, United Kingdom.
Her global experience in environment and natural resources management is derived from board membership to World Resources Forum; former Co-Chair of Global Green Growth Knowledge Platform; former global Co-Chair of Climate and Clean Air Coalition, and member of Steering committee of UNEP's International Resources Panel.
Currently, Dr. Kaudia is the coordinating Co-Chair of Africa Integrated Assessment of Air Pollution and Climate Change; a partnership project between UNEP, Climate and Clean Air Coalition, Stockholm Environment Institute and the African Union.
In 2018 Dr Kaudia founded a firm: Eco-entrepreneurs Ltd through which she promotes ecologically sustainable nature-based enterprises by women and youth groups
Mr. Kolluru Krishan: A Graduate in Electrical Engineering from I.I.T. Kharagpur, Class of 1972, Mr Kolluru Krishan is Chairman, CVC India Infrastructure Pvt Ltd and has over 30 years of experience in Infrastructure, Power, Bioenergy, Oil & Gas Sectors. He has held top management positions in global energy majors and has served as Founder Chairman of multiple Cleantech companies, including CVC Bio refineries Pvt Ltd., Pallava Water & Power Pvt. Ltd. He was also a Member of Advisory Board of Ambienta SGR, a Euro 230 million Environment Fund from 2008 to 2012.
He is Chairman of FICCI Climate Change Committee, Member of FICCI Working Group on Curbing Stubble Burning, Chairman of Skills Council for Green Jobs and Member, Executive Committee of Karnataka State Bioenergy Development Board.
Ralph Birkhoff: Mr. Birkhoff is Co-Founder and Chief Commercial Officer for Alquimi Renewables, LLC, a US/Caribbean based project development and holding company specializing in climate resilient protected agriculture and integrated renewable energy systems in the Caribbean and global Island States. Island Agtech holds proprietary technologies in the first engineered CAT5 hurricane resistant and climate smart greenhouse systems, as well as customized high yield SAEF hydroponic systems designed specifically for sub-tropical climates. Island Growers builds, owns, and operates its farms with local island partners, with first projects to start operations in several islands in early 2021. It is also in the process of establishing a fabrication company in Trinidad for sales and distribution of its custom production systems.
The company mission is to substitute large volumes of imported high demand 'cold weather' crops to augment local indigenous crop farming to help build sustainable national food security in every island. Its farming operations will further support local knowledge transfer and attract young men and women to agriculture as a career by providing training, certification, and high skilled job opportunities. Island Growers farms will be USDA Organic and GlobalGap certified, providing a constant supply of high nutrient organic vegetables and fruits.
Mr. Birkhoff has over forty years of experience working with multi-national clients and supporting their expansion into global markets. Originally from Toronto, Canada, he has focused almost exclusively on the Caribbean and Latin American market for the past twenty-five years, and for the past ten years has made the Caribbean his home. Mr. Birkhoff resides in Tobago with his wife Vidya who is a professional artist and author from Trinidad.